Dr. and Mrs. Kurt Nichol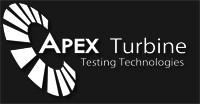 Global Solutions Provider Specializing in Turbomachinery Aeromechanical Testing
Website: http://apexturbine.com
Apex Turbine, formerly known as Expe­ri­men­tal Design & Analy­sis Solu­tions, Inc. (EDAS), loca­ted in Spring Hill, TN, was formed in August 2000 to tran­si­tion aero­me­cha­ni­cal test and analy­sis tech­no­lo­gies deve­lo­ped under the USAF HCF T&E Plan to the commer­cial turbo­ma­chi­nery market. Since forming over 13 years ago, Apex Turbine has been a supplier of turbo­ma­chi­nery test and analy­sis solu­tions and has esta­bli­shed a proven record of deli­ve­ring what we promise. Our company operates under the highest ethi­cal stan­dards and puts our word above our bottom line. When we promise some­thing, we deli­ver it. We are tena­ciously commit­ted to custo­mer support and service.
Our company was foun­ded by people with a passion and a propen­sity for turbo­ma­chi­nery testing. Our engi­neers use this passion and their expe­rience to guide deve­lop­ment of our products. This assures that our solu­tions work the way you would expect them to. Most of the products we now offer were deve­lo­ped in response to real short­falls iden­ti­fied in the course of doing what you do every day.
At Apex Turbine, we bring our years of indus­try know­ledge and expe­rience directly to you through the many solu­tions we provide. Our products address every phase of turbo­ma­chi­nery aero­me­cha­ni­cal test and analy­sis to increase effi­ciency and effec­ti­ve­ness.
Contact
Headquarters
, 1039 Park­way Dr., SPRING HILL, TN
Office:

+1 (931) 486–0081
E-mail: info@e­das­glo­bal.com
Sponsor Recognition
If you would like to get recognized as a sponsor on our website, please let us know and we will add your company into the appropriate category of sponsorship.
Membership Levels
How to Live Sent
According to Dr. Amy Sherman, there are at least 4 ways to Live Sent:
1. Bloom where you are planted.
Care to help build the Kingdom right where God has you assigned in the marketplace?
2. Start something new.
Do you have a passion for addressing an unmet community need? Consider forming either a for profit or nonprofit company and start something new.
3. Give your skills (vocational) away to a community ministry.
Is there a community ministry that could benefit from your vocational skills and talents?
4. A Church Big Vision for the City.
Does your church have a Big Vision for the City? Do you have one and want to encourage your church to consider helping you to develop it?

Living Sent Ministries Growth Track
1. Attraction: Become inspired to live out your Christian faith at work
Register and attend one of our monthly inspirational meetings and events.
2. Incarnation: Learn how to serve and lead like the greatest leader to ever walk the earth
Contact us about serving in a Christian Executives Group (CEG) and/or a church "Men or Women at Work" teaching and equipping class.
3. Mission: Do one more thing vocationally to advance the cause of Christ
Contact us for information on how to prepare and implement a Ministry Action Plan (MAP).
4. Transformation: Transform your heart, the organization you serve, and the community around you
Let us know if you wish to learn more about spiritual transformation.
Jerry's Message
The purpose of Living Sent Ministries is to inspire and equip business and professional leaders to live out their Christian faith. It is about "Connecting Sunday to Monday". A core principle of Living Sent Ministries is that God gave you your business or job (vocation) to build the Kingdom.
Invest in the Kingdom